*** Only limited spaces left available, registrations will close Monday unless places are filled beforehand ***
By The Sea is a children's September school holiday program, and includes bible stories, games, craft, songs, puppets and so much more.
 These activities are all designed to show Jesus' love to everyone who comes along.
 The program is catered towards Prep to Grade 6 and parents are most welcome to attend also.  The payment of $10/child or $20/family covers the 4 days and will be collected at the door, this is to cover the cost of materials and morning tea.
This year we will conclude the program on Thursday Sept 28 at 12pm and this will be followed by a celebration family lunch. We would warmly invite parents and siblings to join us for lunch. There is space on the registration form to indicate if you will be attending.
Registrations close Monday 18th of September. Registration can be done online by going to the link shown below, finding us in facebook at ByTheSeaWDBC or by downloading the attached form.
https://goo.gl/forms/b3prdbXJswMELg5g2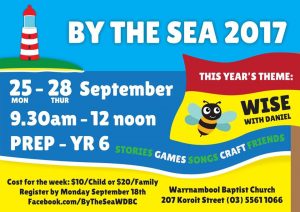 Please contact the church office on ph: 5561 1066 or email wdbc@tpg.com.au if you require any further details.